It's Not Money!
A few months ago, a fellow-blogger friend and I were talking about blogging and business.  I was talking about launching my book and she said, "I don't know how to ask people to buy from me. I feel bad advertising my book."
It was then, that I clearly saw the Business Owner's "root of evil".
Fear of the "Ask"
When I was in sales, we were taught to ask "yes" questions to lead the prospect to the "ask." Have you ever struggled with asking for the sale?  Do you feel awkward or out of place asking?
We all struggle with insecurity and uncertainty at some point or another. Even type-A, "natural" salespeople struggle with this. They just learn how to barrel through the fear because the thrill of "winning" the sale outweighs the fear or insecurity they may experience.
But what about the rest of us?
What if you're not naturally a "type-A" personality?
What if you're not a "natural" salesperson?
You love your craft.  You love the business, but you're terrified of asking for the sale?
How do you overcome the fear?
Overcoming the Fear
In her amazing book, The Art of Earning–Because Making Money Should Be Beautiful, (affiliate link) business consultant, Tara Gentile addresses this very topic. (Read a full review at my inspirational blog, Karmic Kappuccino)
As business owners, we are insecure about our product or service and so we fear the 'ask'.
At first this may seem misleading. You may be very confident in your ability or craft. You may have a great product that you know has the potential to transform lives. Yet you still fear the ask.
I was in the same boat until I read Tara's book. I knew I had a great product–my first book–and I knew that it had the potential to help a lot of people. But I was afraid of asking them to purchase it.
The Real Fear is Not the "Ask"
Our real fear is not of the ask it is a fear of insignificance.
Most of us, in some way, associate the amount of money we make with our value to the world. – Tara Gentile
Somewhere along the way  you have accepted the belief that your money = your worth. If you challenge no other belief in your entire life, challenge this one!  You must!
Your value is not measured by your money.
We all know this, but we still truly believe it.
Positioning Yourself to Profit
Once your alignment with money is corrected, all that is left is profitability because the  more you create, the more you will give; and the more you give, the more you will be compensated for your gifts.
If you can position yourself as a marketer of meaning & depth, you will be a big player in the emerging New Economy. – Tara Gentile
You are the one who creates meaning. Those who can authentically dig deep into their spirits and souls and create (and teach others to do the same) will prosper.
The Transition
You have to make the transition. You have to move from a mindset of earning that is linked to a measure of your worth (or lack of it) to a mindset of earning that is linked to the value of the art you create. Earning should be beautiful!
If you want more information or want to purchase Tara's book, click the link below. I highly recommend her guide as one of my "life-changers" (and I didn't name them that for nothin'!).  The information she shares will challenge all of your fundamental beliefs about money and earning.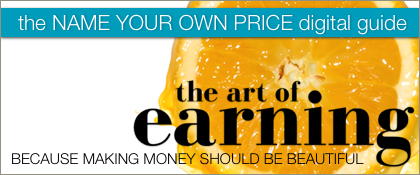 Image: renjith krishnan / FreeDigitalPhotos.net